Gift Box Collections-Great Selection for only $17.00

Wooden Crate Collections $32.00 and up

Popular Assorted Wooden Crate Collection Contents

Floral Elegance Soap Favours $2.50 to $4.00

Gift Box Presentation in Kraft or Glossy White

Loofah Soaps and Collections $7.95-$18.95

Mini Gift Box Collections $10.95
We are pleased to present a great selection of unique hand made gifts in every price range. The truly natural soap we create makes a thoughtful, useful and environmentally responsible gift choice for everyone on your list, even the most sensitive. Any single bar makes a wonderful gift but if you are looking for something a bit more special we have some great suggestions. Since 2003 we have been creating our handmade products from scratch in small batches in the Manitoba Interlake region and remain in control of every aspect of production from ingredient selection to packaging. Over the years we have come to discover that great ingredients make truly great soap!
Floral Elegance Gift Soap Favours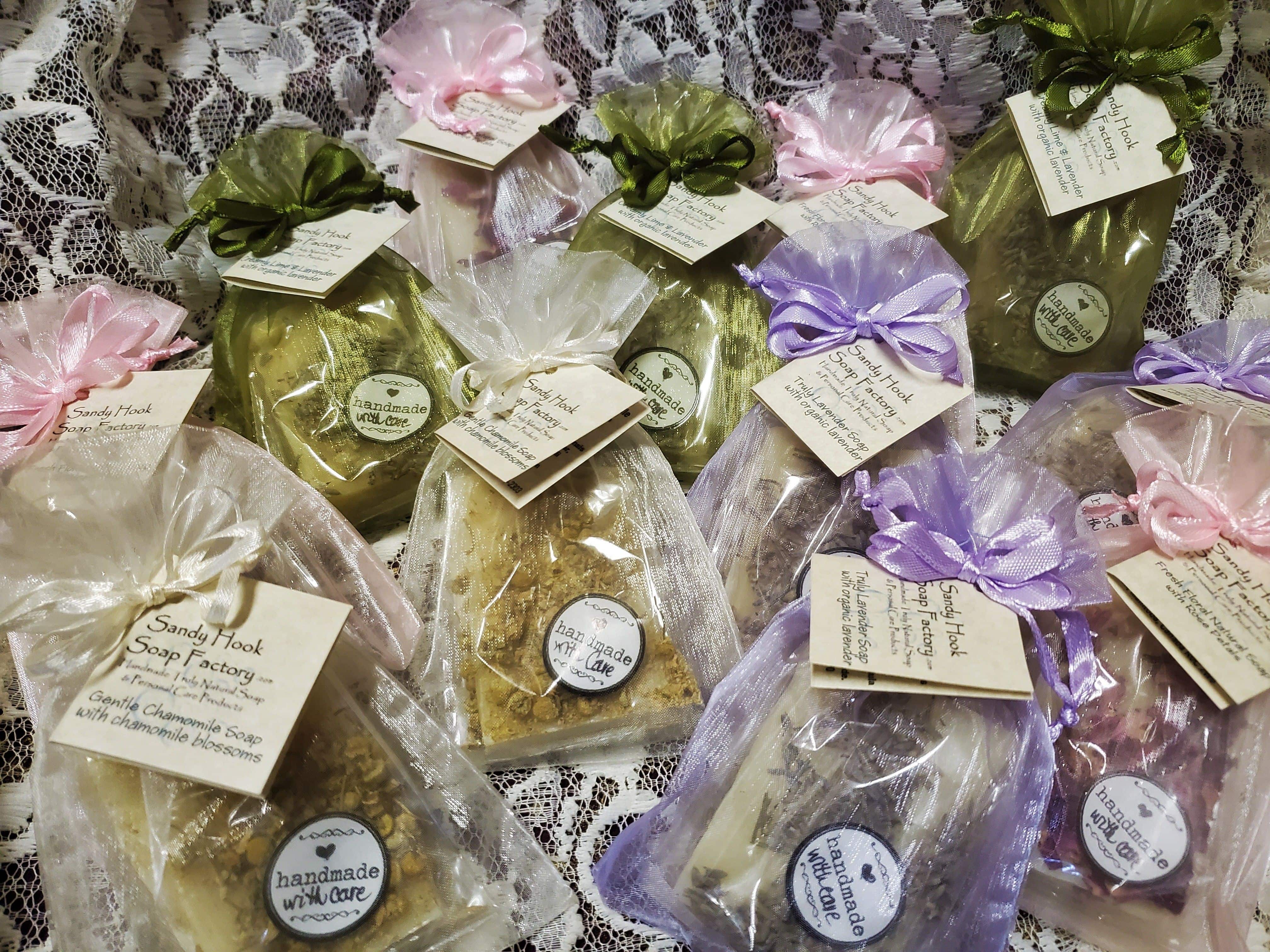 Sweet little attractive gift in 25g guest bar or 45g half bar size decorated with certified organic botanicals. The smaller size may be easily slipped into a greeting card and mailed without effecting postal costs :). Reasonably priced, lovely selections.
25g size $2.50
45g size $4.00
Mini Gift Box Collections $7.95+up
Cute little gift box all wrapped up and ready to gift! Several assortments make a great hosting gift, for teacher, friend, work colleague, almost anyone.
Your choice of two varieties of lovely little sachets made with premium organic botanicals to scent linens, lingerie drawers or as a car freshener. Available in True Lavender made with organic lavender flowers from France or Fresh Rose made with red and pink organic rose petals.
Gift of Hope Soap Gift Set $13.95
Truly a lovely ethical gift item. Our long lasting 88g bar of handmade natural soap presented on a fragrant red Western Cedar soap plank. Nice family soap and for children too. Gift boxed in recycled cardboard with gold "gift for you" foil on the cover, all wrapped up and ready to gift.
Wooden Crate Gift Collections $32 + up
Beautiful collections of our 100% natural products presented in a handmade wooden crate. Great selection for $32, $42 or $52 or your chosen custom amount. Outside Manitoba bag will be decorated with "Handmade in Canada" theme.
Masters of that perfect Custom Made Gift
Give us a bit of info about the recipient and your desired budget and we will make some suggestions for a fully customized gift which is sure to impress. A special natural gift with quality handmade in Manitoba products and gift bagged. All products are made by us!
Gift Box Collections $17.00
Inexpensive and generous collection of our natural soaps and bath salts with lovely handmade presentation. Great choice of varieties.
Soothing Bath Salts in Singles, Eight Bath Bag with bamboo scoop or Collection. $2.50 to $16.00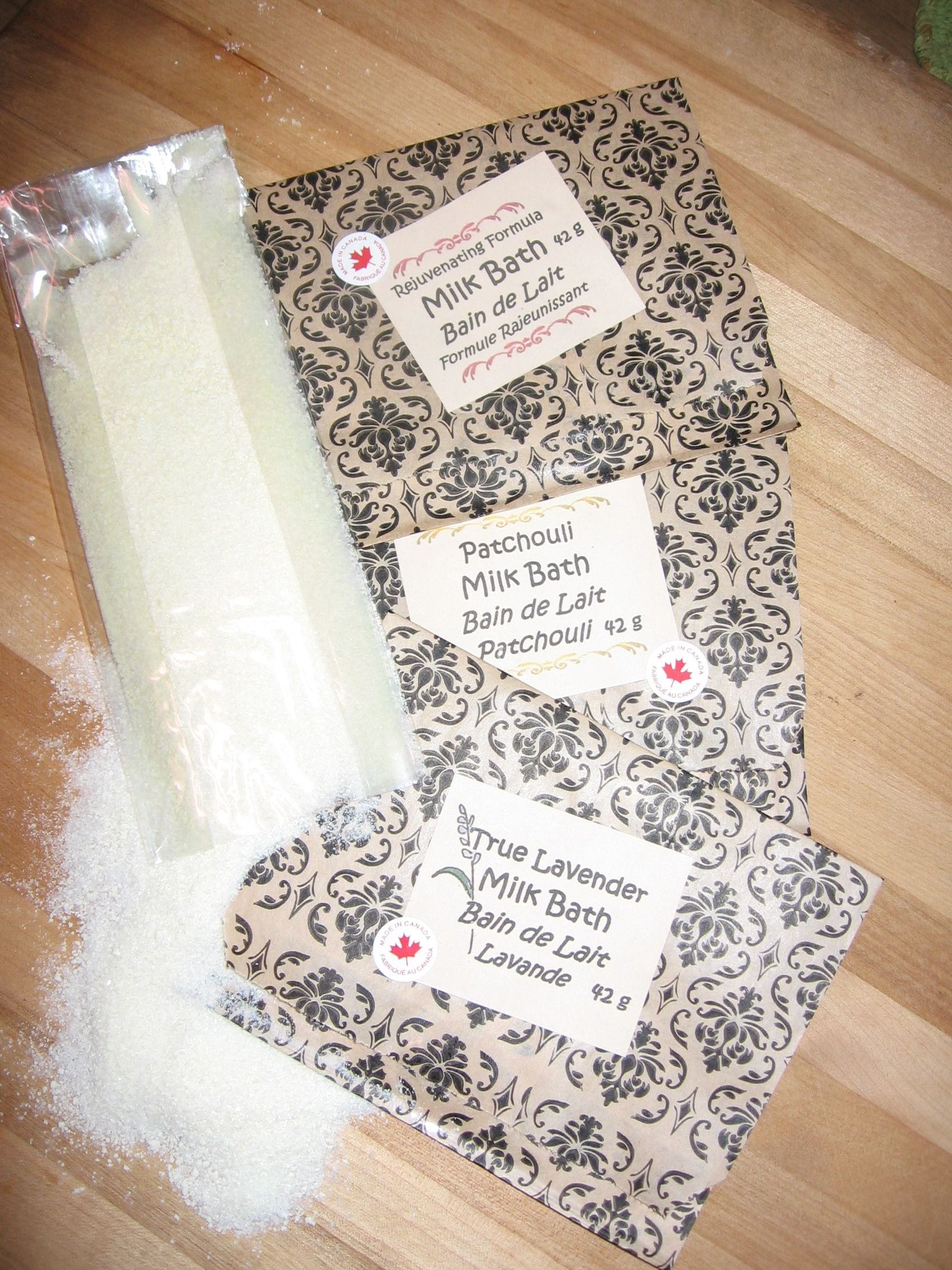 Creamy Milk Baths in Singles and Eight Bath Bag with bamboo scoop. $3.50 to $22.00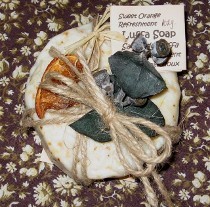 Exfoliating Loofah Soaps the perfect bath tub bar, available in Gift Collection too. $7.95 to $18.95.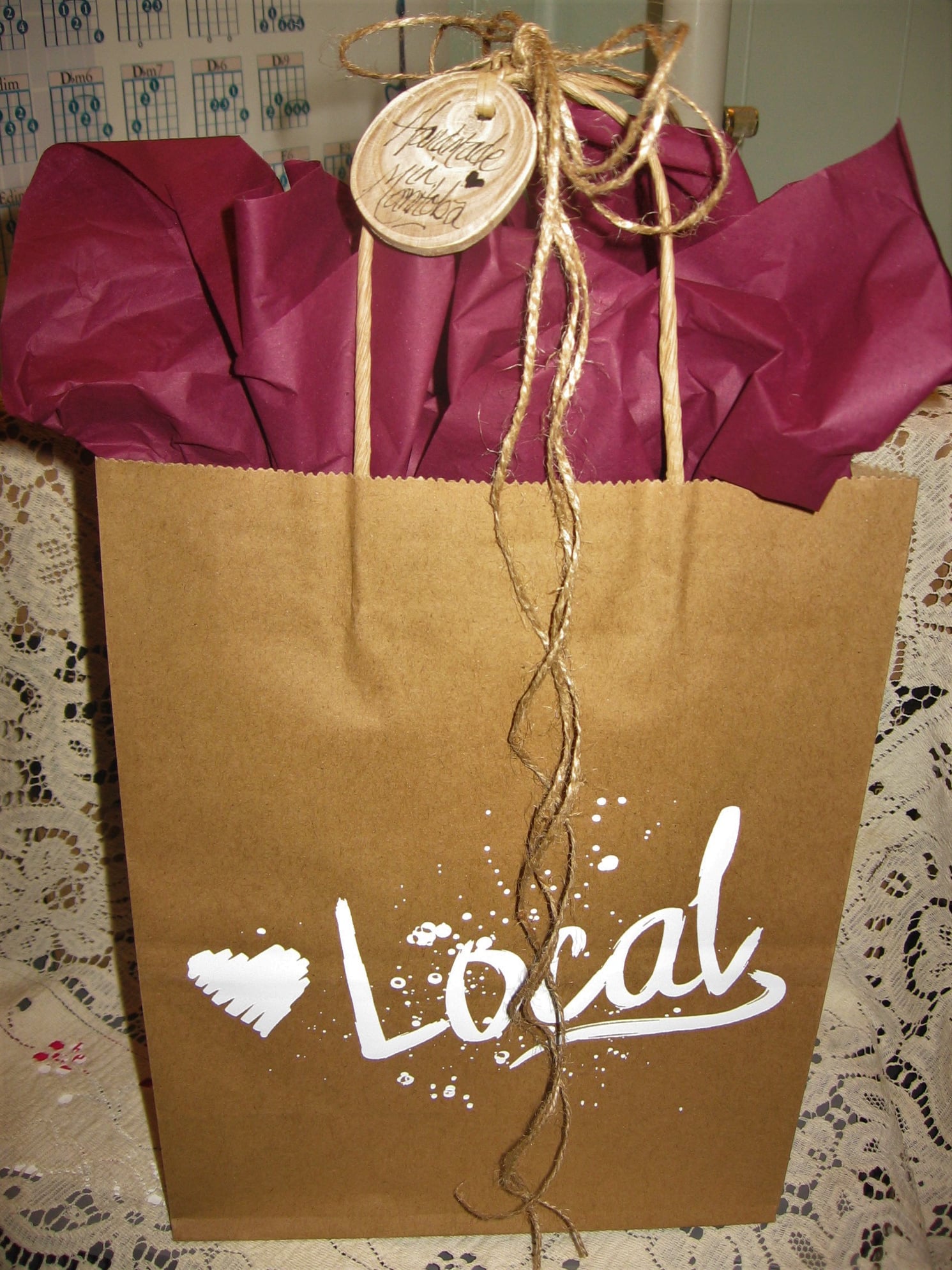 A lovely grab bag assortment of our 100% natural products all dressed up and ready to gift. Choose from several themed varieties. $20 to $50 Outside of Manitoba "Handmade All Natural" theme on gift bag.
Veggie Stand Gift Bag Collection-For Pick Up Only $25.00
A lovely collection of our Manitoba made products! Only available in Manitoba you say, "pity"! Choose from True Lavender or Natural Rose.
Should you have any questions about any of our collections please do not hesitate to contact us, we love talking soap!
Pure Natural Soap Gift Bag Collection
A generous collection of Vegan full sized bars from our Pure Natural Soap Collection. Great choice as a family gift or couple gift which is sure to please! Four full sized bars of 100% natural soap and an Urban Spa Loads of Lather Body Puff which helps save soap usage up to 25%! Bonus soap offered at this time. Environmentally friendly packaging.
"Wooden Crate Gift Collections are beautiful. We were so pleased to gift these and everyone was very impressed. Ordered one and then two more :)."

"We ordered a dozen of the mini gift box collections for everyone from teachers to therapists to the postal delivery person. Enjoyed gifting them so much we ran out. The 20% discount is awesome."

George D North Bay, Ontario

"Thank you for the Floral Elegance Soap Favours. A truly lovely presentation at a surprising price. The ingredients are superb. I will definitely order them again. Loved them."